Hostel
ABOUT HOSTEL
GEC JDP has excellent residential facilities to cater the need of more than a FIVE HUNDRED students. There are two Boys Hostels and one Girls Hostel. Each hostel is having T.V., Sports Items, water coolers and well equipped mess facilities. It is mandatory for hostel inmates to join the mess in his / her hostel, managed by committee of students representatives. All hostels are having independent mess where vegetarian meals are available. All residents have to bear the wages of the mess cooks, servants, helpers and cleaners. Other staff is provided by the Institute.
Chief Warden, Warden of all hostels looks after the management/ day to day activity/ functioning of the hostels.
ADMINISTRATIVE STRUCTURE OF HOSTEL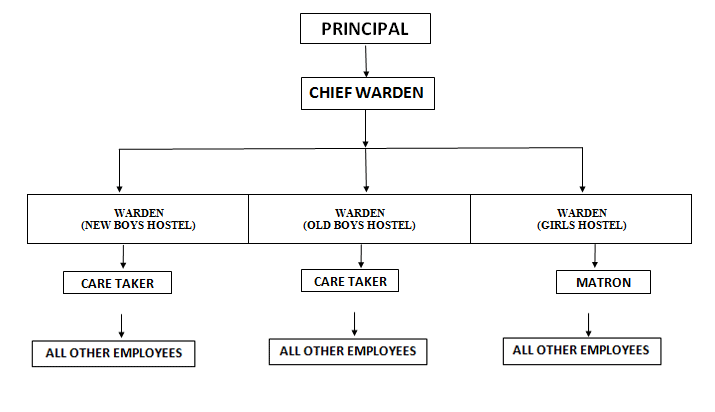 HOSTEL COMMITTEE
S. K. DEKATE - CHIEF WARDEN
Nutan Diwan - WARDEN (OLD BOYS HOSTEL)
PRAVEEN BANJARE - WARDEN (NEW BOYS HOSTEL)
ARTI SHRIVASTAVA - WARDEN (GIRLS HOSTEL)
DETAILS OF STUDENTS
TOTAL NO. OF STUDENTS RESIDING IN OLD BOYS HOSTEL - 228

TOTAL NO. OF STUDENTS RESIDING IN NEW BOYS HOSTEL - 144
TOTAL NO. OF STUDENTS RESIDING IN GIRLS HOSTEL - 216

BOYS HOSTEL FACILITIES
TV ROOM
NEWS PAPER / MAGAZINE
MESS FACILITY
SPORTS – CAROM, CHESS, CRICKET KIT, BADMINTON, VOLLEY BALL, FOOTBALL AVAILABLE  
OUTDOOR PLAY GROUND
24*7 WIFI FACILITY
FIRST AID BOX AVAILABLE
ABOUT RAGGING & ITS PREVENTION (as per All India Council For Technical Education, New Delhi)
               WHAT CONSTITUTES RAGGING: -
               Ragging constitutes one or more of any of the following acts:
any conduct by any student or students whether by words spoken or written or by an act which has the effect of teasing, treating or handling with rudeness a fresher or any other student;
indulging in rowdy or undisciplined activities by any student or students which causes or is likely to cause annoyance, hardship, physical or psychological harm or to raise fear or apprehension thereof in any fresher or any other student;
asking any student to do any act which such student will not in the ordinary course do and which has the effect of causing or generating a sense of shame, or torment or embarrassment so as to adversely affect the physique or psyche of such fresher or any other student;
any act by a senior student that prevents, disrupts or disturbs the regular academic activity of any other student or a fresher;
Exploiting the services of a fresher or any other student for completing the academic tasks assigned to an individual or a group of students.
any act of financial extortion or forceful expenditure burden put on a fresher or any other student by students;
any act of physical abuse including all variants of it: sexual abuse, homosexual assaults, stripping, forcing obscene and lewd acts, gestures, causing bodily harm or any other danger to health or person;
any act or abuse by spoken words, emails, posts, public insults which would also include deriving perverted pleasure, vicarious or sadistic thrill from actively or passively participating in the discomfiture to fresher or any other student;
any act that affects the mental health and self-confidence of a fresher or any other student with or without an intent to derive a sadistic pleasure or showing off power, authority or superiority by a student over any fresher or any other student.
ACTIONS TO BE TAKEN AGAINST STUDENTS FOR INDULGING AND ABETTING RAGGING :-
Depending upon the nature and gravity of the offence as established the possible punishments for those found guilty of ragging at the institution level shall be any one or any combination of the following:-
Cancellation of admission
Suspension from attending classes
Withholding/withdrawing scholarship/fellowship and other benefits
Debarring from appearing in any test/examination or other evaluation process
Withholding results
Debarring from representing the institution in any regional, national or international meet, tournament, youth festival, etc.
Suspension/expulsion from the hostel
Rustication from the institution for period ranging from 1 to 4 semesters
Expulsion from the institution and consequent debarring from admission to any other institution.
Collective punishment: when the persons committing or abetting the crime of ragging are not identified, the institution shall resort to collective punishment as a deterrent to ensure community pressure on the potential raggers.
INSTRUCTION FOR HDF UTILIZATION
This fund will be used by for maintaining hostel, mess, 15th aug/ 26th jan celebration, other religious function, fresher welcome party, final year farewell, news paper/ magazine subscription, satellite TV STB charges, repairs, housekeeping, security etc.    
            छात्रावास सम्बन्धी व्यय हेतु रिकार्डो का संधारण –
छात्रावास में संचालन हेतु पृथक से बैंक में बचत खता खोलकर समस्त वित्तीय संधारण किया जावेगा |खाते के संचालन के लिए प्राचार्य एवं छात्रावास अधीक्षक संयुक्त रूप से अधिकृत होंगे|
छात्रावास में छात्रो द्वारा ली जाने वाली फीस विवरण हेतु पृथक से लेज़र एवं केशबूक संधारित की जावेगी |
उपरोक्त व्यय का रिकॉर्ड संधारण केयरटेकर / मैट्रन के द्वारा किया जावेगा |
HOSTEL FEES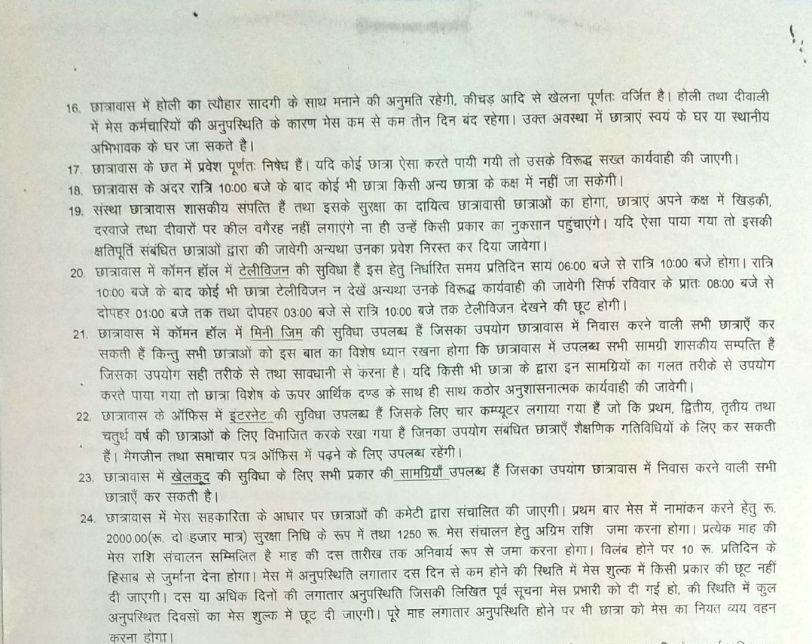 Hostel Facilities:
Medical facilities available to sick students.
Filtered water provided to all students.
Well equipped Gym.
Exclusive uninterrupted study room for students.
Indoor and outdoor games facilities.
      6.Television facility is also provided for the entertainment of students.
A free Wi-Fi Facility is also been provided in our hostel.